 Brainard Strategy
Category — Web, Print
Date — May 2018
Brainard Strategy is a management consulting firm that provides organizational development and business strategy consulting and solutions. I worked closely with the team at Brainard to create compelling graphics and complex workbooks for their leadership training seminars.
Leadership Academy infographic
My work with Brainard started as single deliverable contract, but quickly evolved to become a long term working relationship. This first project was an infographic advertisement for the Brainard Leadership Academy event. The graphic was sent to customers and prospects via email. In an email format, you've got seconds to capture the recipient's attention before they delete the email or mark it as spam. In order to achieve results, this infographic needed to break through the visual noise.
It's all too common in this industry to spam users with stock photos of business people in suits, sitting around the table in a conference room. Translating business leadership into a conceptual "adventure" however was sure to disrupt the expectation and make viewers think. The infographic design featured mountain climbing imagery with vibrant colors and characters, likening the process of leadership development to climbing a mountain – a steep and rewarding journey. After completing this project, Brainard was so pleased with my turnaround time, work ethic, and execution that we continued working together for years to come on a wide variety of deliverables.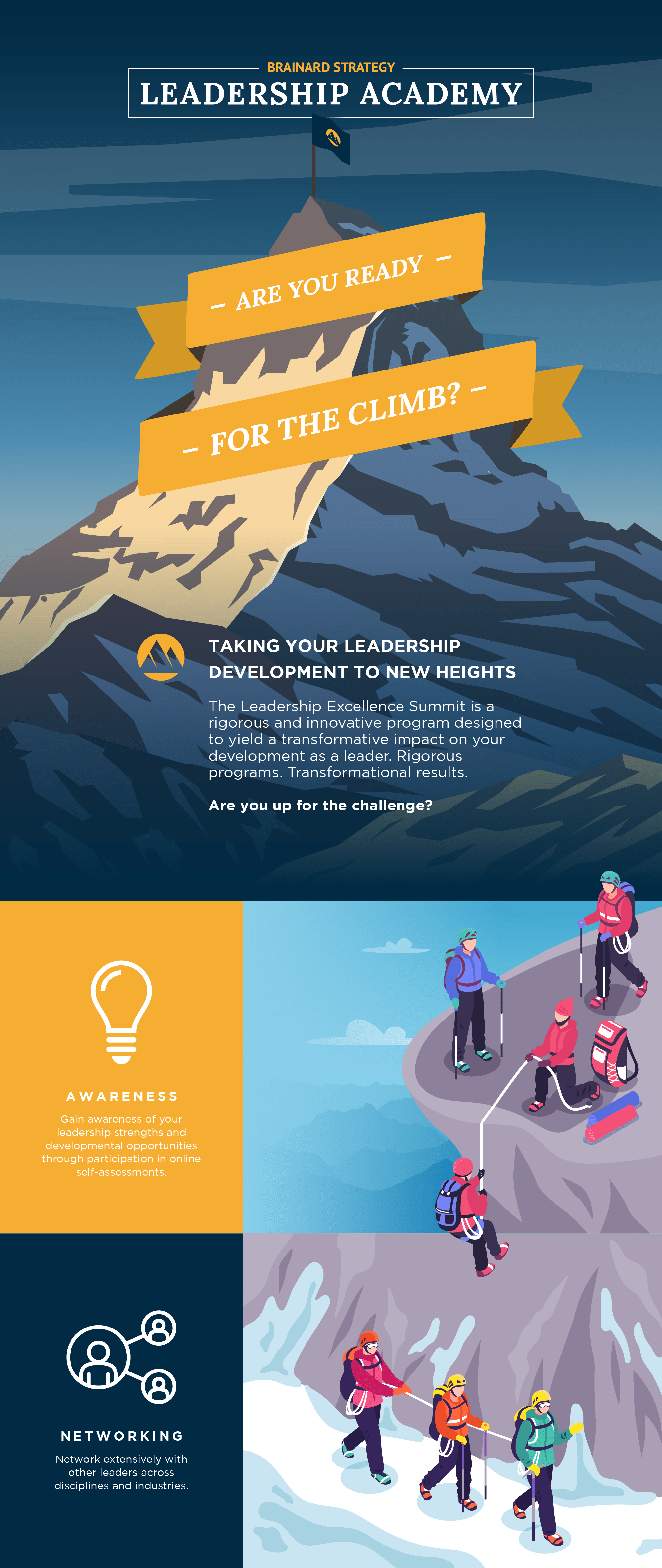 Leadership Academy infographic… again
After delivering the original mountain climbing infographic design, Brainard came back with another request. They wanted to do an additional infographic advertisement for the Leadership Academy, but this time the team had a more focused concept. Prior to design, the Brainard team gave a clear direction with the visual style they were looking for, and delivered complete written content. Having these details nailed down prior to design allowed me to specifically target the ideal illustrations to fit the theme and align the scene with the content.

Oakley Workbook
The Oakley workbook was a massive and intimidating project. Oakley was a relatively new client for Brainard and it was very important to make a powerful impression on the company. The workbook itself included over 80 pages of highly complex graphics and mental models, along with structured sections for note-taking and chart filling. A helpful tabbed approach to the document sections enabled participants to quickly flip through sections and use the workbook as a reference in the future. The branding of this workbook was a delicate balance between the dark, corporate branding of Oakley and the more vibrant, playful branding seen throughout Brainard's materials.